Heliflight
---
Heliflight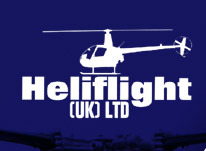 Heliflight prides itself on its customer care with an enthusiastic team who are on hand to make flying relaxing and a pleasure. Heliflight's pilots take business men to meetings, people to the races, and families on flight experiences. Their commercial work involves flying helicopters for companies and news teams, be it capturing footage for a documentary or taking photographs of a construction site.
Heliflight's flight instructors have trained hundreds of helicopter pilots. Many are keen to learn to fly for pleasure while some go on to become commercial pilots and flight instructors themselves. Heliflight is a recognised training school and offers a wide range of courses to its students.
For pilots who do not own their own helicopters Heliflight also hire out their helicopters to those with licences and the experience to fly them. Heliflight also offers hangarage and maintenance for people fortunate enough to own their own helicopter and help to potential owners wanting to purchase their own helicopter.
The Heliflight team are dedicated to ensuring that clients enjoy their helicopter flying experience safely and are on hand to assist you from simply having a ride to becoming a flight instructor.
Heliflight UK Ltd - Gloucestershire
Website: www.heliflightuk.com

Address: Gloucestershire Airport SE36 Staverton, Gloucestershire GL51 6SR

Tel: +44 (0) 1452 714555 Fax: +44 (0) 1452 714666