Solent Flight Ltd
---
Solent Flight Ltd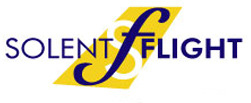 Here at Solent Flight flying school, we have not forgotten the thrill of our first flight or first solo.

There are many reasons why people decide to take flying lessons. For many it is the chance of a life time to learn how to fly. People come to us for flying lessons to learn how to fly and become pilots, not just licence holders.

People fly for many reasons, not just sport, leisure and business. We fly to expand our own horizons and those of others. Safety is high on our agenda, but we also aim to make sure that you have the time of your life whilst learning to fly.

We are also here to help you. Please look at our pages on trial lessons, courses and, of course, the aircraft that we have.
Address: Lower Upham Airfield, Winchester Road, Bishops Waltham. SO32 1HA

Website:
www.learntoflysolent.co.uk
01489 861 333