BEECH D17S STAGGERWING
---
BEECH D17S STAGGERWING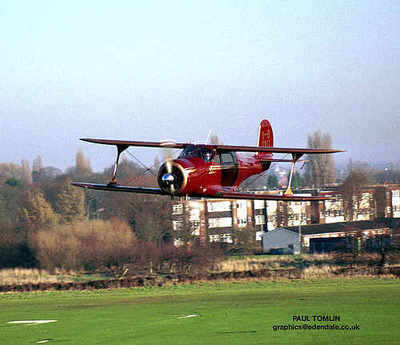 Constructors no 4823,built under us navy contract as a GB2,accepted by the navy 25/5/1943 sricken of charge 1946.
Log books start at 1947.reg to ohio oil company it had one owner1958-1991 owned by myself eversince.
Total hours flown to date 3472 airframe
Engine pratt and whiney R985-6 total hours 6080 "0"SMOH TOP OF THE RANGE OVERHAUL CARRIED OUT BY REPAIR STATION TULSA AIRCRAFT ENGINES OK ALL ACCESSORIES OVERHAULED,TOTAL RESTORATION FIREALL FORWARD COMPLETED 2003.OIL COOLER OVERHAULED 2003
Prop Hamilton standard 2b30.overhauled atalanta props nov 1991 281hrs total time notice 75 carried out 1998/sept2001.
Wheels and brakes changed clevland disc
New seat belts fitted,new connerly hide int.grey carpets and head lining.
Choice of dual or throw over yoke.
All avionics king fitted 1991 never used
KNS 80 RNAV,KY197COM,ADF KR87/KT 176A TRANSPONDER KMA2A COMM PANEL,D120 BLIND ENCODER AA80 INTERCOM,ADF/VOR INDICATOR PLUS GLIDE SLOPE.
All wings rebuilt ,new rear spars fitted on lower wings,recoverd ailerons,rudder,fins and flaps.tail plane elevators boroscoped 2001.
Undercarriage motoroverhauled now takes 17sec to retract 2001
New jabsco alt fitted 2001
New tail bungee 2001
New fuel gauge and sender 2001
New flap switch gear 2001
New flap motor cables fitted 2001 New wind screen fitted 2001
New s/s flying wires landing wires
New drain sump plugs fitted on lower wings
Mulberry in colour with gold leading edges and bird,red leather int grey carpets and headling.
NEW 3 YEAR C of A TILL 2005
TEL HOME GB 1745 584447 FAX 584443
TEL WORK GB 1745 342672 FAX 344110
MOBILE 07836 600008
EMAIL [email protected]